George Town Real Estate
Although much of the Georgetown neighborhood in Seattle has an industrial feel, there are still a selection of single family homes found just to the north of Boeing Field. The neighborhood itself occupies to space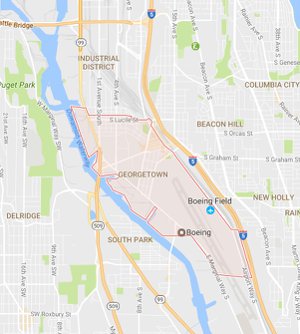 to the north of Boeing Field, west of I-5, and south of the Industrial District neighborhood of Seattle.
There is very limited inventory in Georgetown, making it difficult to get a good idea of the prevailing conditions in the real estate market. It isn't uncommon to find only one or two properties on the MLS listings of homes for sale, so potential buyers have to act quickly if they are determined to live in this location. However that can vary greatly due to the lack of inventory.
One of the great attractions in the Georgetown area is located just to the south of the neighborhood itself – The Museum of Flight. The largest aviation museum on the west coast, the Museum of Flight is a must-see attraction for any Puget Sound area resident. Aviation plays a major role in the history of this region, and the museum pays tribute to that history with an incredible collection of pieces and exhibits. Boeing Field is adjacent to the museum, and is also available for tours. Beyond the museum, the Georgetown area has seen a rebirth of many shops, bars, and restaurants which draw visitors from within the neighborhood and other nearby locations like South Park and Beacon Hill.
Purchasing a property in Georgetown might require some persistence because of the extreme lack of inventory, but a lucky buyer could find the right property come onto the market at just the right time. For those who work in the South Seattle area, this is a great place to be.