Elektra Condominium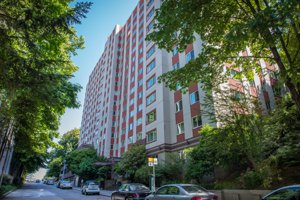 The Elektra is a 16-storey Seattle high-rise condos originally built in 1957 with 200 units. It is located where the Pike and Pine Corridor meet up with the First Hill, on the corner of Pike and Hubbell. It is right after the Convention Center on the east side of Interstate 5. Elektra was expansively remodeled in mid-1990s before being converted to condominiums. It is known as one of the most stylish places to live because of its place, design, and its own amenities. It remains reasonably priced and an excellent comfortable place to live. Situated between downtown, Capitol Hill and First Hill where there is much to do within walking distance. You can walk through Pike/Pine corridor to Broadway or walk through downtown to shop at Pike Place Market. Entertainment, dining and other services are just a short walk away. The bus route is close as well. Freeway is just across the street.
They offered great amenities to residents like designated uncovered parking area. They have a concierge who greets residents and guests. They also have recreation room, a guest suite and business center. Two roof top decks showcase panoramic views of the city. To the west you can see Downtown and Elliot Bay while to the north is Lake Union and Queen Anne. This is the best sight to appreciate the fireworks show on the 4th of July. Today, Elektra Condominium remains a reasonable option to downtown Seattle.
No current listings, please check back later.