Cosmopolitan Condominium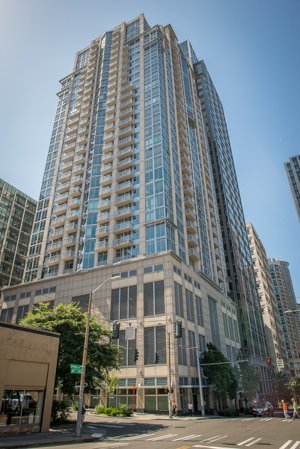 The Cosmopolitan is one of the Seattle high rise condominiums located in Denny Triangle on Virginia and 9th Avenue in downtown Seattle. It was a 34-story building built in 2007 by Morteson Construction with 270 units consisting of studios, 1-bedroom and 2-bedroom units. The 16-studio units ranges from 419 to 537 square feet. The 151 one bedroom unit ranges from 179 – 1,176 square feet while two-bedroom ranges from 1,186 – 1,919 square feet. Cosmopolitan's 9th floor housed the amenities of the building while the first eight floors are composed of retail spaces and parking spaces and the rest of the buildings are residential units.
The Cosmopolitan Condominium units have views of the famous Space Needle and Lake Union. Some of the upper units have Puget Sound and breathtaking Olympic Mountain View. There are nice package amenities that you can enjoy along with your space include a business center, 24/7 concierge staff, a facility manager, a roof top deck complete with BBQ's, owners lounge, hot tub, party room, conference room, spa and exercise facilities. Most of the units have 1 parking space and only a few have two spaces and about half have a storage locker. The Cosmopolitan is close proximity to restaurants, coffee shops, theaters, and other services.
Click the link to view all the condos for sale in Seattle.
No current listings, please check back later.