Lake Forest Park Real Estate
For those who are interested in homes for sale located in a small and relatively exclusive community, Lake Forest Park is exactly what you have been looking for. With approximately 13,000 residents, this is one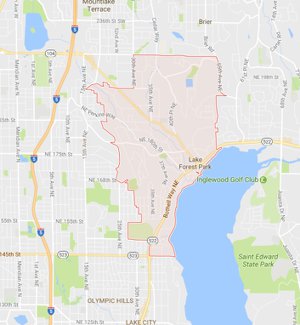 of the smaller suburban Seattle communities. Despite the fact that Lake Forest is only a half hour drive from the bustling business district of Seattle, the careful attention to maintaining a more natural feel to the entire community gives the appearance of being a million miles from the city.
More About the Lake Forest Park Area
The city itself sits on the shores of Lake Washington and offers a large number of waterfront homes in what can only be described as heavily wooded lots. The intent of the developers was to create a city that while it had a suburban appeal, managed to create a "living in the country" feel to it. While there is a commercial zone along highway 522, the rest of the community is largely given over to luxurious single family homes and a small, by comparison, number of apartment buildings.
Many of the homes here enjoy scenic lake views making them among the most desirable real estate in the city. A number of the homes are located along the shores of Puget Sound, and there are a number of houseboats and floating homes to be found on Lake Union. Within the city lies Lake Forest Town Centre the commercial heart of the city. What started out as a mall has spread to include the city offices, some 40 retail stores and businesses.
Shoreline Community College has a satellite campus here and during the summer month's you can always find plenty of fresh produce at the farmer's market. There are two residential communities, Horizon View and Sheridan Beach / Heights. Horizon View is home to Horizon View Park the highest point in the city. Half of the park offers plenty of trails to walk and areas to play in, while the other half is a large reservoir. Sheridan Beach / Heights is highlighted by the Sheridan Beach Club, an exclusive club that residents must pay to belong to.
What about Homes for Sale in Lake Front Park
The one thing that sets homes for sale in Lake Forest Park apart from all others for sale in the Greater Seattle area is that not only will you find them to be among the most expensive in the city, but they are considered to be among the most expensive in the country. Homes that are located on the shoreline command 7 figures with $2 to $3 million dollar homes offering spectacular lake views coming on the market from time to time.
As a predominantly white collar community, the median income for those who live here is well over $100,000 per year with the vast majority of residents commuting to downtown Seattle to work. With the Lake Forest Town Centre and several parks to enjoy, this luxurious community has much to offer someone looking for homes for sale at the top end of the scale.